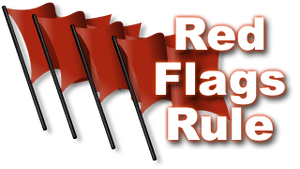 If you are in the auto industry, you have undoubtedly heard of the Red Flags Rule—a program designed to prevent identity theft. This regulation began in January of 2011 and is enforced by the Federal Trade Commission (FTC). There are certain steps that are required in order to implement this program into your dealership in an effective manner. If you are found to be in violation, the FTC can seek $3,500 per each citation.
1. It must be in writing. The program is designed so that the identity of all persons entering into a credit or lease transaction is verified. What policies and procedure to you have in place to ensure this? And is it in writing? Only in this way can you respond to government audits and show your compliance.
2. Identify and detect the red flags for your dealership. These "red flags" suggest that a customer could be using stolen identity information. Specific ones to consider according to the FTC:
a. Alerts, notifications or warnings from a credit reporting agency.
b. The presentation of suspicious documents—this might include forged or altered documents as well as picture ID that is questionable. Their address may not be the same as the one that shows up on their credit report.
c. Third parties such as victims of identity theft or law enforcement agencies contact you regarding a potential or current customer.
d. Determine what your response is when red flags are detected. This could mean implementing an electronic identity verification system. This confirms incompatible addresses or possible social security number theft. Once detected, describe your course of action. Did you discontinue the transaction and notify law enforcement?
3. Train your employees to follow your policies and procedures regarding the red flag rule. In addition, make sure you have a system in place that monitors employee's access to customer's files and personal information.
4. Update your program on an annual basis. Make any necessary changes based on your past history and experience with identity theft. Implement new and better methods of identifying identity theft that become available.
Contact our dealer compliance consultants to ensure your dealership is protected.