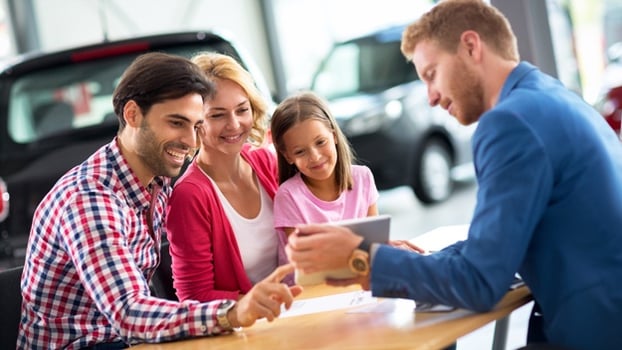 Car sales is a competitive business. In any given town in America, you can bet that if there is one car lot, there is always at least one more. Most of the time there are several more. How can you manage to find that niche, that one special thing that your car dealership offers that attracts customers?
One way is to streamline the car buying experience. The typical car buying experience starts with the customer pulling into the car lot. Greeting him is a hungry salesman just itching to make a sale. After what may be numerous test drives and discussions, the customer finally chooses his vehicle.
At this point, it's time to talk money. The salesman hands off the customer to a second person- the sales manager. The sales manager discusses several things with the customer such as the trade-in value of a potential trade, and the selling price of the new vehicle. It is here that the sales manager and the customer agree on the bottom dollar for the automotive purchase.
Once the bottom line sales price is agreed upon, the customer is again handed off to a third individual- the finance and insurance manager. At this point, the discussion turns to who will finance the car, at what interest rate, for how long, and oh yes, does the customer want to purchase any additional insurance or warranties.
In one purchase, a customer deals with three different people. What if you took one person out? Have you ever thought about making your sales manager a hybrid sales manager?
What's a hybrid sales manager? It's one that can manage the entire car buying experience from trade in value of an old car, to the bottom line price of a new car, on to arranging financing and selling extended warranties. Let your sales manager be a jack of all trades.
Think about it. Having a hybrid sales manager saves money in the long run. Two jobs are combined into one. It also can increase customer satisfaction. How many customers do you think would enjoy having that one go to person available to walk them through a sale and be available to answer questions even after the sale? Quite a few...and that is where the niche is found for customer retention and referral.
Even though the hybrid sales manager is a great concept, it's not one that is successful without good training. That's where our company can assist you. We specialize in thorough automotive and finance training that will give your hybrid sales manager the tools he needs to be of service to both the customer and the company. Contact us for more information or to get enrolled in our training program.